Powys Health Board staff offered flu vaccine to prevent bug spread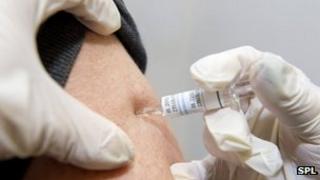 NHS staff in Powys are being offered the flu vaccination to prevent passing the bug onto patients and their families this winter.
The aim is to keep staff fit and healthy and reduce the chance of spreading flu to vulnerable people.
This year a needle-free version of the vaccine is also being offered to two and three-year-olds at GP surgeries and year seven pupils at school.
The vaccine will be offered to vulnerable people as normal.
Jane Davies, a health protection nurse with Powys Teaching Health Board, said "Vaccinating our staff is not just about ensuring that they can continue to work and care for patients, but is also about reducing the chance of them spreading flu to the more vulnerable people that they come into contact with."
Dr Catherine Woodward, the health board's director of public health, said flu was "very contagious" and was easily passed to vulnerable people.
"Each year sees a different strain of flu circulating so we need to have a new vaccine every year," she added.