Tegwyn Evans: Funeral for ex-FAW president in Welshpool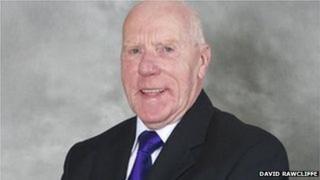 Close family, friends and colleagues of the former Football Association of Wales (FAW) president Tegwyn Evans have attended his funeral.
Mr Evans, 85, of Welshpool, Powys, died on 8 October, a week after suffering a heart attack.
Officials from the FAW attended the funeral service which was held in Welshpool on Monday.
A minute's silence was observed for Mr Evans ahead of Wales' World Cup game against Macedonia on 11 October.
Mr Evans was described as "passionate" about football, serving as an FAW council member since 1975 and as president from 2003 to 2006.
He was also a former mayor of Welshpool, a president of the local football club and a successful businessman.
The FAW has said Mr Evans, who was chairman of the Central Wales FA, was a "lifelong stalwart of mid Wales football".
'Mr Welshpool'
Following his death, it said: "During his time at the FAW he was a fine ambassador for the game at home and abroad and made many friends.
"Everyone at the FAW salutes his service to football in Wales and our thoughts are with his family and friends at this sad time."
Away from football, Mr Evans was heavily involved in his local community and was widely known as "Mr Welshpool".
He served on Welshpool Town Council for many years, including a spell as mayor between 1981 and 1983.
In 2002, he was awarded the MBE for his services to the town and to Welshpool Football Club.