PC Alun Morgan wins police bravery award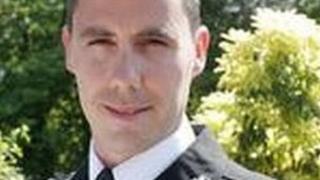 A police officer has won a national bravery award after he risked his life to save a drowning teenager from a quarry in Carmarthenshire.
PC Alun Morgan from the Dyfed-Powys force won the Police Federation prize at a ceremony in London.
But despite his efforts in June 2012 at Cilrychen Quarry, Llandybie, 14-year-old Luke Somerfield died.
PC Morgan was one of the first on the scene and dived into the water after hearing the screams of upset children.
Luke, from Llandeilo, had been in Cilyrychen Quarry with three friends.
An inquest into the teenager's death in August last year heard that he became tangled in rope from a lifesaving ring and drowned. A verdict of accidental death was recorded.
PC Morgan and his colleagues arrived at the quarry to find it enclosed by an 8ft (2.5m) high chain-link fence, with two lines of barbed wire above and no obvious way to get inside or out.
He cut a hole in the fence and asked a worker from a neighbouring engineering firm to cut the chains on the nearby gates so other emergency vehicles could get in.
PC Morgan, a former lifeguard, then sprinted to the edge of the quarry lake and, after speaking to witnesses, he tied a rescue line to himself and dived 15ft (4.5m) down to rescue the boy.
Luke later died in hospital.
PC Morgan, who won the Welsh region police bravery award, said: "It was very tragic and it's bitter sweet to win this award. Sadly the little boy died but we did our best for him as a team.
"You don't think about the dangers when you go in, adrenaline kicks in and you just do it. It's only afterwards you start to think about things.
"I just wanted to get to the boy as quickly as I could and get him out. I'm very proud and I didn't expect it all."
PC Morgan said the Luke Somerfield Memorial Trust had been set up in Luke's memory to educate youngsters about the dangers of water.
Steve Williams, chairman of the Police Federation of England and Wales, said: "Congratulations to PC Morgan for receiving the police bravery award for the Welsh region.
"In very traumatic circumstances, knowing the risks involved and despite instructions not to, PC Morgan plunged into treacherous quarry waters.
"He risked his own life, determined to save another. PC Morgan's bravery, endurance and dedication to duty cannot be underestimated."