Newtown Town Council plans to leave 'unsafe' HQ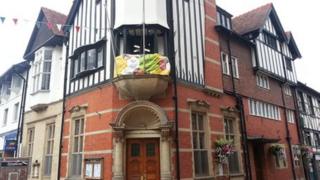 A town council is looking for a new home after it was left with a £20,000 bill to bring its current Victorian building up to fire safety standards.
Newtown Town Council has been told the fire alarm system in its 19th Century headquarters needs upgrading.
It also needs new fire doors and might need re-wiring after a fire report described the building as "unsafe and unacceptable".
It has approached Powys council about using one of its buildings.
The current town council building also houses a museum honouring the social reformer Robert Owen, who was born in the town.
Last month, Deputy Mayor Richard Edwards said it had failed to comply with a series of new fire regulations which had been introduced in the last few years.
Speaking at a full council meeting this month, town council clerk Jenn Jones said that the report required a substantial list of improvements which had to be carried out immediately.
The costs of carrying out the work was estimated to be well in excess of £20,000 and not all the estimates for the work were yet known.
It was unanimously agreed that the council would actively explore vacating the building.
A Powys council spokesman said: "The town council have approached us to see if we can find them some accommodation within our buildings if and when they have to leave their current building.
"We have held initial discussions but nothing has yet been decided."