Ysgol Ffynnonbedr, Lampeter: Roof repairs after closure warning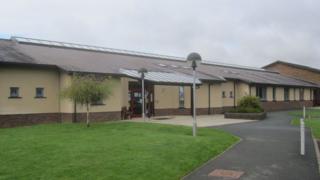 About £350,000 is being spent fixing a roof at a primary school built just six years ago following warnings the problem could force its closure.
Ceredigion council said some classrooms at Ysgol Ffynnonbedr in Lampeter could not be used during heavy rain.
One report criticised the way the roof had been constructed.
Contractor Balfour Beatty said it took care to provide an excellent service and had been working closely with Ceredigion council.
The school was built six years ago by Cowlin Construction Ltd, which was part of Balfour Beatty but no longer exists as a brand.
'Inconvenience'
A Ceredigion council cabinet report said the leaks, which had occurred during the last two years, were affecting the school's electrics.
"These leaks have caused inconvenience to the school during periods of heavy or driving rain," said the report.
"Discussions have been held with the responsible contractor, Cowlin Construction Ltd, and a course of action was agreed to provide and install additional ventilation in the roof of the school where it was found the contractor had not complied with the contract specification.
"Unfortunately, these trial remedial works in addressing the penetration of water into the building were not successful."
It added the Building Research Establishment (BRE) had been appointed as an independent technical adviser to determine the causes of problem.
BRE found the roof was "not constructed in accordance with the contract specification and that the materials used have proved to be defective as built".
'Excellent service'
The council report said: "The extent of the defects in the roof are leading to the deterioration of the structure and fabric of the school and may now result in the closure of the school in the near future because the multiple leaks are affecting electrical installations and rendering teaching spaces unusable.
"After further discussions with the responsible contractor and our legal services team it has not been possible to resolve the dispute, therefore, it was decided to offer the remedial works required as specified by the BRE to the market to determine a tender sum for these works.
"Tenders for the work have been returned with the accepted tender in the region of £350,000."
The council said work had started to recover the costs from Balfour Beatty but it said the company had not accepted responsibility for the roofing problems.
A Balfour Beatty spokesman said: "We take care to ensure that we provide an excellent service for our customers both during and after our projects, and we have been working closely with Ceredigion County Council regarding this issue."