Operations at Bronglais Hospital postponed over staff shortages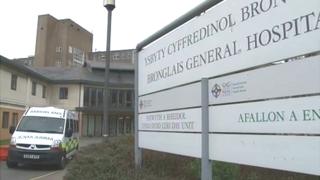 Some operations at the only district general hospital in mid Wales are being postponed for up to a month because of major staff shortages.
Hywel Dda Health Board said it was also cutting six beds on a general surgery ward at Bronglais Hospital in Aberystwyth because of the shortages.
The board said the patients affected had been contacted but all cancer surgery would continue as a priority.
The decision had been taken on safety grounds, it said.
Hywel Dda Health Board has had persistent recruitment problems at Bronglais Hospital.
'Will not compromise'
Last November it said it was launching a recruitment drive for a mental health ward after it shut because of staff shortages.
In April fears were also raised that beds could be lost in the hospital's intensive care unit and on a cancer ward.
A year ago the health board stopped all planned surgery for a month because there were not enough beds to cope with demand.
Commenting on the latest problems, a health board spokeswoman said: "Due to significant staff shortages and in the interests of patient safety, Bronglais Hospital is reducing the number of planned operations over the next month and will only have the number of beds open for which we can provide the appropriate levels of nursing and medical cover.
"The health board will not compromise on safety and will not permit potentially unsafe staffing levels.
'Ones to suffer'
"This decision has not been made lightly and this action is required to ensure wards are staffed safely. Affected patients have been contacted and all cancer work will continue as a priority."
The health board said the six beds on Ceredig ward which normally holds up to 30 patients were not being used.
Plaid Cymru Ceredigion AM Elin Jones said: "Either the health board is running short of money or it is particularly inefficient in planning its workforce.
"Either way the patients of Ceredigion should not be the ones to suffer.
"I will expect the health board to resurrect the full complement of beds and services on Ceredig ward within the month. The Welsh government provided additional funding to health boards for this financial year only last week."
The health board said other hospitals under its control - West Wales General in Carmarthen, Withybush in Haverfordwest and Prince Phillip in Llanelli - were not affected and operations were going ahead as planned.