David Higgins: Powys driver on verge of retaining US rally crown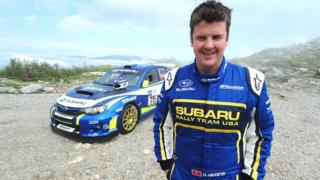 David Higgins is on the verge of racking up his third consecutive Rally America National Championship which has made him a household name across the Atlantic.
But mention his name in the UK and only the most dedicated of motorsport fans will raise an eyebrow in recognition.
Stateside, he is mobbed by sport-loving Americans and his exploits in the rally championship are pored over by the country's TV sport channels.
Racing is in Higgins's blood. The high-pitched scream of cars being put through their paces and the thrill of driving on the edge along narrow forest tracks have been a major part of his life for more than 20 years now.
His grandparents and parents have all been successful rally drivers, and his brother Mark is a three-time British champion and a movie stunt driver and recently worked on the James Bond film Skyfall.
Born in the Isle of Man, the 40-year-old married, father-of-two from Trefeglwys, near Llanidloes, Powys, got his first taste of motorsport in motorcycle trials when he was eight.
Aged 10, he moved into national kart racing and won seven titles against drivers including the former Formula 1 McLaren and Red Bull ace David Coulthard.
In 1993 he won his first rally car title, the Peugeot Challenge. Since then many more have followed, including the British Rally Championship in 2004.
He also started driving in the Chinese Rally Championship in 2004 and helped his team win the team championship that year and in 2007 and 2009.
But his Rally America National Championships are some of his proudest moments behind the wheel.
The Subaru driver is on target to win this year's championship and leads US rally star Ken Block by 17 points going into the Lake Superior Rally in Houghton, Michigan, on 18 October.
"It's looking good for me but it's not a done deal. Anything can happen in rallying," said Higgins.
"Ken Block is a fantastic driver and it will be tough."
Higgins explained how big rallying was in the US.
'Massive following'
"We're getting about 60 to 70 entries for each round of the championship and drivers are mostly from the US, but there are Australians and Indonesian drivers too and me, from Trefeglwys," he joked.
"We have thousands of followers. Rallying is a growing sport and our events receive massive coverage on the TV station ESPN.
"American sports fans are passionate and love their sport. The top drivers are household names in the US.
"Last Friday I flew to Texas and took part in a driving display with Subaru and 3,500 people turned up. I did three, two-hour autograph sessions and I flew back home on Saturday morning where I'm hardly known.
"It's funny. I'm more likely to be recognised in the street in the US than I am in my own country.
"Rallying has got a massive following in the US - it's a really big deal over there and as part of a big team like Subaru I'm part of that."
Higgins turned to rallying in the United States because in Britain drivers often have to pay for their own cars and they have to find their own sponsorship.
Rounds of the US rally championship are staged throughout the country in places like Portland, Oregon, Wellsboro, Pennsylvania and Detroit Lakes, Minnesota.
Drivers compete on a variety different surfaces from forest stages to gravel tracks.
Higgins said he did 300,000 air miles a year and sometimes spent a week rallying in the US and then a week at home helping his wife run their rally school in Carno, near Newtown.