Tributes to ex-football president Tegwyn Evans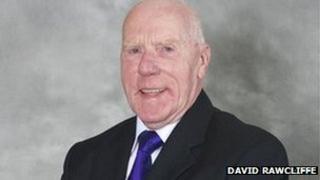 Tributes have been paid to a former president of the Football Association of Wales (FAW) and community stalwart who has died aged 85.
Tegwyn Evans MBE, of Welshpool, Powys, died in the early hours of Tuesday, a week after suffering a heart attack.
Mr Evans was "passionate" about football, serving as an FAW council member since 1975 and as president from 2003 to 2006.
He was also Welshpool's mayor and president of the local football club.
The FAW described Mr Evans, who was chairman of the Central Wales FA, as a "lifelong stalwart of mid Wales football".
"During his time at the FAW he was a fine ambassador for the game at home and abroad and made many friends," it said.
"Everyone at the FAW salutes his service to football in Wales and our thoughts are with his family and friends at this sad time."
Away from football, Mr Evans was heavily involved in his local community and was widely known as "Mr Welshpool".
He served on Welshpool Town Council for many years, including a spell as mayor between 1981 and 1983.
In 2002, he was awarded the MBE by the Queen for his services to the town and to Welshpool Football Club.
Robert Robinson, clerk of Welshpool town council, described him as an "absolute gentleman".
"Nothing ruffled him and everybody you speak to only has good words to say about him," he said.
"His main love was football and he did a tremendous amount of work with that. He was very passionate about it.
"The amount he put into Welshpool Town Football Club was incredible.
"And you don't become the FAW president for nothing. He was still travelling very long distances for meetings and was still involved in top level football with the Welsh FA.
"He also looked after the local carnival for 20 years and handed it over to me just a few weeks ago.
"He was one of those characters you wanted around and will be hugely missed."
Welshpool Town FC said: "To football people throughout Wales Tegwyn was known as Mr Welshpool Town and was extremely respected throughout the Principality and further afield for his dedication to the game and indeed to us as a club for over 70 years.
"Many clubs in Mid Wales have benefitted from his help and advice over the years.
"His loyal and dedicated service to the club was rewarded with his appointment to the Welsh FA and later his elevation to president of that organisation, a position he held with tremendous pride and dignity.
"We as a club will miss Tegwyn tremendously for his leadership, guidance and advice which he provided."
Tributes were also paid to Mr Evans on Twitter.
Glyn Davies, MP for Mongomeryshire, wrote: "One of Montgomeryshire's big personalities has died. Tegwyn was a great servant of Welshpool, and long term champion of Welsh football."
Llanidloes Town FC tweeted: "Sad news again today. Mr Tegwyn Evans has passed away. True gentleman and great ambassador for football in Wales."
Fellow Powys club Llanfair United FC added: "Sad news regarding the death of Mr Tegwyn Evans today."