Aberystwyth housing schemes in £800,000 regeneration boost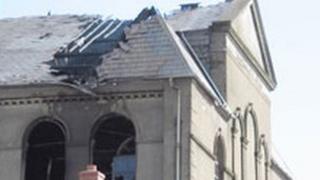 Housing projects in Aberystwyth have received an £800,000 boost from a scheme to help rejuvenate the town.
The Welsh government's town regeneration fund is supporting plans for 20 flats on the derelict Tabernacle chapel site with a £337,500 grant.
It is also giving £400,000 to a project to bring empty properties back into use in the town centre.
A housing improvement grant scheme run by Ceredigion council, and targeting Corporation Street, receives £100,000.
The Victorian Tabernacle chapel in Mill Street was gutted by fire in July 2008 and demolished on safety grounds. There had been hopes of converting the listed chapel into flats before the blaze.
Plans for the 20 one-bedroom flats on the site are being developed by Mid Wales Housing Association in partnership with Ceredigion council.
Welsh government Housing and Regeneration Minister Carl Sargeant said: "When the action plan for Aberystwyth was developed one of the key themes was the development of quality housing for local people.
"The demand for housing in the area is significant and in the past it has not been of the highest quality.
"Empty properties are a wasted resource in an area such as Aberystwyth where demand for housing of all types is very high.
"There are a number of vacant and under-used properties and vacant spaces above commercial areas throughout the town, specifically in the town centre, and these do little to enhance the visual appearance of the area or encourage investment."
The Welsh government named Aberystwyth as a regeneration area in October 2009 and it was awarded £10.3m in March 2010.
Projects which have already benefited from the fund include a new circular road linking Aberystwyth University and the National Library of Wales, along with a new bus service. This opened last year.
"This latest investment will redevelop a site which is seen as an important location in Aberystwyth and has been an eyesore in recent years," said Ceredigion council leader Ellen ap Gwynn, who is also chair of the fund's partnership board.
"While this development focuses on housing it contributes to the larger picture of making Aberystwyth an attractive place to work, live and visit and future projects, such as the redevelopment of the bandstand, will also complement our overall aim."
More than £8m of the regeneration money has been spent on Aberystwyth so far and more projects are in the pipeline, she said.
Meanwhile, a scheme improving access to the town's railway station and an area for buses received £1m from the fund in 2011.