Up to 10,000 larch trees to be felled at Bwlch Nant-yr-Arian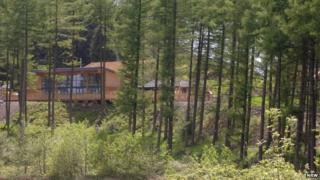 A three-month project to fell up to 10,000 diseased larch trees has started in Ceredigion.
The trees at Bwlch Nant-yr-Arian near Aberystwyth, are infected with the fungus-like Phytophthora ramorum.
It follows the felling of diseased larch trees at Wentwood Forest near Newport, Wales' largest ancient woodland, on Friday.
The infection can kill trees and has spread across the UK after being found in south west England four years ago.
Natural Resources Wales (NRW) said between 8,000 and 10,000 trees were set for the chop at Bwlch Nant-yr-Arian and 4,000 tonnes of timber would be removed.
The environmental body took the decision to fell the trees in an effort to slow the spread of the disease to other areas and other tree species.
NRW, which looks after Bwlch Nant-yr-Arian forest centre on behalf of the Welsh government, said part of the site which was popular with mountain bikers and walkers would shut while the work took place.
Horse riding trails at the site will be closed but walking and orienteering trails will remain open but with some disruption.
For safety reasons the centre's two play areas have been closed for two weeks.
Plans are to replace the felled trees with about 13,000 oak trees and other native species before next spring.