April Jones remembered on first anniversary of her abduction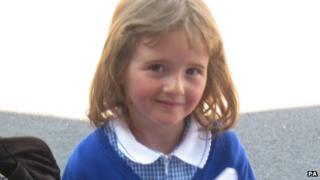 Murdered schoolgirl April Jones is being remembered in mid Wales on the first anniversary of her abduction.
The five-year-old's parents released pink balloons and lanterns on Tuesday evening for their daughter who was taken by Mark Bridger on 1 October last year in Machynlleth, Powys.
Bridger was jailed for life for her abduction and murder at a month-long trial in May.
Last week hundreds of people attended April's funeral in her hometown.
April went missing while playing outside her home. Despite a hunt involving dozens of police officers and hundreds of people she was never found.
Her mother, Coral Jones, 41, issued an open invitation via Facebook for people either to join her in remembering April or to mark the occasion themselves.
The lanterns were set off from the estate where April lived at around 18:00 BST.
"You are more than welcome to let them off with us or do them were you live," she said on her Facebook profile.
Meanwhile, applications for money from a fund set up in April's memory closed on Monday.
It is expected the trustees of April's Fund, which has raised more than £76,000 so far, will discuss with her family where the money should go.
April's former primary school and search and rescue teams could benefit from some of the money raised.
The first anniversary of her abduction marks a turbulent 12 months for the small Dyfi Valley market town of Machynlleth.
Town and Powys county councillor Michael Williams said Machynlleth should move on with compassion and understanding.
"It's been a very harrowing experience for the town and further afield in the Dyfi Valley but for Coral and Paul (April's parents) and their family it must have been quite horrendous, and not forgetting Mark Bridger's children and the mothers of those children," he said.
"It is time to move into the future and return to that vibrancy the town showed before 1 October last year. We must do this for April's family's sake, for the children in the community and the whole community.
"We have to move into the future in a positive way and with compassion and understanding."
Hundreds of people turned out to search for the schoolgirl in the days after she was reported missing by her family last year.
They were joined in the hunt by police and mountain rescue teams from Wales and around the UK but April's body has never been found.
April's story and the response of the community to her disappearance touched people around the world, and the town's reaction was praised by Prime Minister David Cameron in the House of Commons.
Pink, her favourite colour, became a symbol for her search, with people wearing pink bows and tying pink ribbons to trees in the town.
Last Thursday, residents paid their final respects in a funeral service at the town's St Peter's Church.
April's small white coffin was carried from her home on the Bryn-y-Gog estate by a horse-drawn carriage, which was followed by hundreds of mourners including her parents and siblings.