Senghenydd disaster charity rugby match 'emotional'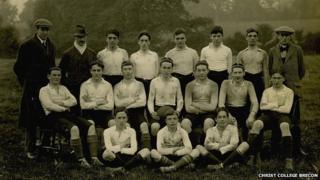 A rugby match replayed to mark the centenary of the UK's worst mining disaster has been described as "emotional" by the organisers.
Back in 1913, a game between Christ College Brecon and Crickhowell RFC was a fundraiser for the 439 victims of Universal Colliery in Senghenydd.
But a century on the teams were fundraising for a memorial marking the miners' deaths.
Christ College ran out 29-5 winners in Saturday's game.
A methane explosion ripped through Universal Colliery in the Aber valley on 14 October, 1913.
Eleven days later the charity game raised about £800 in today's money.
Money raised from Saturday's fixture between the independent school and a youth team from Crickhowell will go towards the national mining memorial, which is to be unveiled on the 100th anniversary of the Senghenydd disaster next month.
It is not yet known how much Saturday's match raised.
The memorial will commemorate 150 mining disasters, including Gleision in the Swansea Valley, where four men died in 2011.
Mal Powell, Crickhowell RFC's historian, who approached Christ College about replaying the game to mark the centenary, said: "It was quite emotional, the opening ceremony when both teams lined up together brought home the feeling of the day.
"It was enjoyable but poignant."
He said the two sides and around 200 supporters observed a one-minute silence before the game at Christ College.
Crickhowell won the game 100 years ago, 9-6. It turned out to be significant because it was the only fixture the team won all season, said Mr Powell.
Jack Humphreys, chairman of the Aber Valley Heritage Group which is behind the national mining memorial, said the match 100 years ago generated much needed funds for the families whose relatives died in the Universal Colliery explosion.
The original fixture was played less than a year before the start of World War I and Mr Powell said members of the Crickhowell team served in the war but survived.
However, four of Christ College's 1913 team died.