Water supplies cut again in Welshpool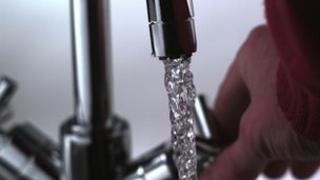 Homes and businesses in parts of Welshpool have been left without water after supplies at the town's hospital were hit more than a week ago.
Severn Trent said properties in and around Salop Road temporarily lost supplies following a burst pipe.
It said repairs had taken place and supplies were now being restored.
A number homes in the area were hit about 10 days ago when nearby Victoria Memorial Hospital lost its water twice in three days.
As well as Salop Road, Severn Trent said properties in Gungrog Road, Myrtle Drive, Garreg Drive and Bronwylfa Road had also experienced problems with supply on Thursday morning.
It said it believed the hospital had not been affected on this occasion but it was checking with its officials.
A company spokesperson said: "We'd like to apologise to customers in Welshpool who may have been affected by a burst water pipe this morning.
"We're doing all we can to restore water supply to homes as quickly as possible.
"We are delivering bottled water to homes in the affected area this morning and we will be visiting customers to keep them up-to-date with our progress and to listen to their feedback.
"To help prevent further disruption we have now made changes to the water supply system, which has meant that a number of homes are not affected this morning.
"We are also planning to install new water pipes in the area to make sure that our customers will receive a reliable water supply."
Last week Severn Trent said it was installing a system which would help prevent the hospital losing its supply again.
The hospital's new kidney dialysis unit needs 1,200 litres of water every hour when running at full capacity.