Bat cave built in lime kiln on canal bank near Brecon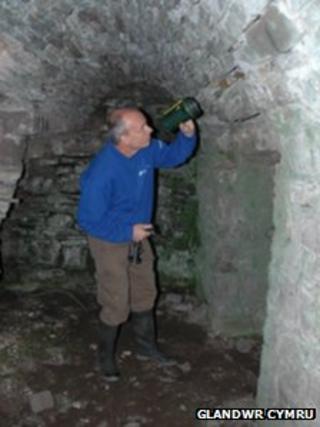 A former lime kiln near Brecon has been transformed into a home for some of the UK's rarest bats and it appears some have already moved in.
The 19th Century kiln along the Monmouthshire and Brecon Canal has been restored for the lesser horseshoe bat.
Finishing touches were made to the habitat on Monday when the first bat droppings were found inside.
Twelve kilns along the 49-mile (79km) waterway have been restored but only one will be used for bats.
The lesser horseshoe species has protected status and the creatures live along the canal.
Glandwr Cymru, the Canal and River Trust in Wales, decided to restore the kilns after they had become overgrown and their stonework had started to crumble.
Built in 1803, the kilns produced lime mortar which was used in agriculture and to build nearby towns and villages. The mortar was transported using canal boats.
Joe Coggins of Glandwr Cymru said: "It's taken us about four or five weeks to turn the kiln into a home for the bats.
"We made some finishing touches today and spotted some lesser horseshoe bat droppings, so they could have already moved in.
"The kilns are a unique piece of canal heritage and it's great one is being used for such a worthwhile project."
'Peaceful place'
Dr Mark Robinson, a Glandŵr Cymru ecologist, said the kiln was an ideal habitat for the bats.
"We know lesser horseshoe bats use the Monmouthshire and Brecon Canal as an important commuting route and find plenty of food along the way," he said.
"This species has been recorded in a number of rural buildings locally but too often these buildings are being used or are in threat of development, so we want to give the bats a decent, peaceful place to set up home.
"The shape of the kiln is ideal for bat habitat. It has grills which are perfect for bats to fly in and out of, while the stone walling retains enough heat.
"The kilns themselves have a fantastic story behind them and it's great we've had so much support to bring them back into a condition befitting of a piece of national heritage."