Larch trees to be felled at Bwlch Nant-yr-Arian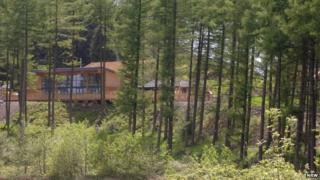 An area popular with mountain bikers in Ceredigion is to shut for three months while larch trees infected with a disease are felled.
Work to remove the trees from around a lake at Bwlch Nant-yr-Arian, near Aberystwyth, will begin next month.
They are infected with the fungus-like Phytophthora ramorum.
Natural Resources Wales (NRW) said 4,000 tonnes of timber would be removed.
It is not the first time the disease has been discovered in Wales.
It was found in the Afan Valley, Neath Port Talbot, three years ago and had infected trees over about 3,000 hectares (7,400 acres) by the end of last year.
Earlier this year aerial surveys revealed a further 1,800 hectares (4,400 acres) were showing signs of infection.
NRW looks after Bwlch Nant-yr-Arian forest centre near Aberystwyth on behalf of the Welsh government.
The environmental body took the decision to fell the trees in an effort to slow the spread of the disease to other areas and other tree species.
Horse riding trails at the site will be closed while the trees are removed but walking and orienteering trails will remain open but with some disruption.
NRW's Gareth Owen said: "We aim to replace the coniferous trees with about 13,000 oak trees and other native species before next spring, replicating the ancient oak wood which once covered most of Wales.
Safety reasons
"We also intend to involve local school children to help us plant an orchard of mixed fruit trees close to the visitor centre, and some of the felled trees will be carved into sculptures to increase visitors' enjoyment of the woods."
Bwlch Nant-yr-Arian is also a popular feeding site for red kites.
"People will still be able to view the kite feeding from the balcony and cafe at the visitor centre, and some of the felled larch will be used to build a new red kite viewing hide," added Mr Owen.
For safety reasons the centre's two play areas will be closed for two weeks at the beginning of October.
"Inevitably, this essential work will require areas of the forest to be temporarily closed for safety reasons while forest operations take place but we'll do all we can to ensure that felling proceeds with minimal disruption," Mr Owen said.