Rare brown hawker dragonfly spotted in Ceredigion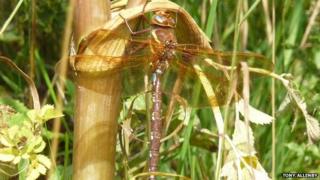 A rare dragonfly not usually found in west Wales has been spotted at a nature reserve in Ceredigion.
A brown hawker dragonfly has appeared at RSPB Ynys-hir, near Machynlleth, where the BBC Springwatch programme was filmed earlier this year.
The RSPB said the insect was common in England but rarely appeared as far west as Ceredigion.
The charity said it had recorded its highest numbers of dragon and damselflies this year.
They included other rare species such as the small red damselfly, hairy dragonfly and black darter.
The brown hawker has golden brown wings, with yellow stripes across its body.
David Anning, site manager at RSPB Ynys-hir, said: "We were really excited to discover this dragonfly at the reserve but it doesn't surprise us.
"Over the past 10 years we've worked really hard to create the ideal home for dragonflies, forming new ditches and raising water levels.
"We are proud to see these beautiful creatures making the reserve their home."
If the weather stays mild, the RSPB said the brown hawker would remain at the reserve until the end of the month.