UAV testing in Aberporth expanding to use Newquay Cornwall Airport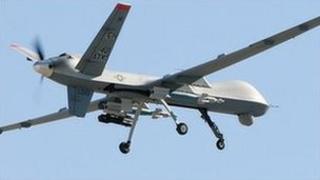 A centre for unmanned aerial vehicles (UAVs) in Ceredigion is to use a second site in Cornwall for testing drones.
The National Aeronautical Centre (NAC) in Aberporth said the expansion to Newquay Cornwall Airport would "significantly extend its capacity".
Until now, Aberporth has been the only privately-owned airport in Europe allowed to operate UAVs in special segregated flying zones.
More than 100 people protested against UAVs outside the site on Monday.
West Wales Airport in Aberporth has been involved in the development of UAVs or Unmanned Air Systems (UAS) since their origins as target drones in Cold War missile tests.
In the last decade Aberporth has become a centre of excellence for the latest UAV technology.
At an industry event at the Royal Society in London this week, the NAC announced that Newquay Cornwall Airport would now become an "integrated part" of operations that would "significantly extend its capacity".
Newquay airport, an aerospace enterprise zone, has one of the longest runways in Britain, at nearly two miles (3km).
Ray Mann, head of the NAC, says Newquay Cornwall Airport was a "capable partner" for Aberporth.
"This is an opportunity for the UK to lead the way," he said.
"Together, West Wales Airport and Newquay Cornwall Airport are committed to being at the forefront of developments in this sector and we hope our vision will deliver rewards," he continued.
'War machine'
Mr Mann claims the NAC is the largest and most capable facility of its type anywhere in the world.
"We need to ensure that some current perceptions of civilian use of UAS don't hinder the UK's ability to capitalise on this exciting opportunity for economic growth."
Mr Mann said that although the NAC will have two sites in western Britain it did not necessarily mean that unmanned aircraft would fly between the two runways.
"If a client requested it, we would seek temporary airspace restrictions," he said.
On Monday, more than 100 peace campaigners demonstrated outside Aberporth in protest at the development of "drones" at the site.
Watchkeeper
CND Cymru, Amnesty International, Cymdeithas y Cymod and National Justice and Peace Network took part in the rally.
The Aberporth complex includes the NAC-owned West Wales Airport and facilities, as well as the nearby military range radars operated by defence technology company QinetiQ.
Aberporth is used by the Ministry of Defence, which has been developing the Watchkeeper drone with defence contractor the Thales Group.
Although Watchkeeper is unarmed, it is used as an intelligence, surveillance, target acquisition and reconnaissance (Istar) system by the British Army.
In 2011, at the request of the Welsh government, a new 25-mile (40km)-wide UAV zone was established by the Civil Aviation Authority over mid Wales to the east of Aberporth, extending the total testing area over land and sea to a total of around 8,600 Km² (3,320 mi²).
Al Titterington, managing director of Newquay Cornwall Airport, said there was a huge opportunity for growth.
"The UK aerospace industry has a major opportunity in the UAS market but first it must develop, demonstrate and prove that systems and sub-systems can contribute to ensuring safe and reliable operations, whilst being properly regulated," said Mr Titterington.