Miles of River Ystwyth cleared of Himalayan balsam weed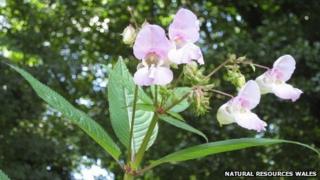 More than 10 miles (16km) of riverbank in Ceredigion has been cleared of an invasive weed but more work is still needed.
Natural Resources Wales (NRW) has been eradicating Himalayan balsam along the River Ystwyth near Aberystwyth since 2009.
Two-thirds of the river has been cleared but more work is needed before the entire length is clear.
NRW said the plant threatened precious habitats.
Himalayan balsam, which arrived in the UK from the Himalayan mountains and can grow to more than 6ft (1.8m) tall, scatters millions of seeds in its vicinity. The seeds can last for more than 18 months in the soil before sprouting.
NRW said contractors clearing the plant had reached the village of Llanilar, near Aberystwyth, and had even used abseiling gear to reach sections growing on a high vertical bank.
The aim is to clear the river's entire length but the project is subject to continued funding.
Karen Heppingstall of NRW said: "The Himalayan balsam plants seed prolifically and widely.
"Where it is dense a strimmer is used but much of the work involves crawling about among the riverside gorse bushes, pulling out every balsam plant by hand.
"The cooperation of the whole valley has been crucial to the success of this project, and volunteers have also been working in Llanilar this summer."
The work is considered vital to protect Sites of Special Scientific Interest (SSSIs) along the Ystwyth.
One such site - the nature reserve at Grogwynion on the upper reaches of the river - was at one time threatened with disappearing under the shady, pink-flowered plants but is now clear of them.
"With the balsam gone thanks to the work we carried out, the reserve is a better place for wildlife and a great place for people to enjoy," added Ms Heppingstall.
Work also started this year clearing the Rheidol, another river in the area, of the plant.