Farmbox Meats: Firm's products face recall order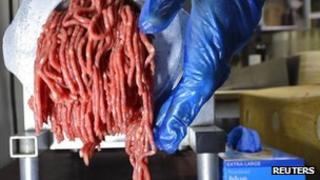 The Food Standards Agency has ordered the recall of meat supplied by a Ceredigion company investigated in this year's horsemeat scandal.
The FSA has issued a recall notice for all frozen lamb, beef and mutton trim supplied by Farmbox Meats Ltd of Llandre near Aberystwyth.
Officials cite temperature control and traceability laws as the recall reason but the alleged breaches are disputed.
The company went into receivership in June and is no longer trading.
In a notice released on Friday, the FSA stated: "Heads of Environmental Health and Directors of Trading Standards will wish to be aware that a company formerly trading as Farmbox Meats Limited has supplied frozen beef trim found to breach food safety regulations.
"We believe that the product has not been subject to proper temperature controls and does not comply with traceability requirements under food law.
"It has not been possible to obtain full distribution details or product traceability records for products supplied from this establishment."
'Picked on'
In response, a spokesperson for Dafydd Raw-Rees, who owned Farmbox, said: "The issues which the FSA have now raised are historic, particularly in view of the fact that the company has long gone into administration.
"The alleged breaches are not substantiated and are disputed as a matter of fact and, in our view, a complete misinterpretation of the legal position."
Work at Farmbox Meats was originally suspended in February following a raid by police and FSA officials investigating the discovery of horsemeat contamination in processed beef products.
Mr Raw-Rees insisted at the time there had been no cross-contamination at the cutting plant and said he felt he had been "picked on".
Farmbox Meats was allowed to re-open operating under conditional approval in March.
Receivers
But the FSA then decided to withdraw the approval over hygiene standards, which the company disputed.
In April, Mr Raw-Rees said he planned to appeal against the decision, and threatened to take legal action against the FSA.
However, on 6 June official receivers were appointed after a hearing at Manchester High Court.
In Friday's recall notice, the FSA asks local authorities to "make contact with the establishments in their area likely to purchase the implicated products" and ensure those products are withdrawn - if found.