Red faces over blue Montgomery phone box planning mix-up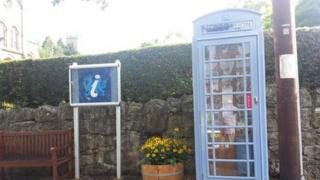 Councillors have been forced to apply for retrospective planning permission after repainting a traditional red telephone box blue.
Montgomery town council in Powys has turned its listed, disused phone box into a mini tourist information centre, installing racks and leaflets.
But councillors failed to realise they needed planning consent to repaint it.
Town mayor Mike Mills admitted the call box might have to be returned to its original colour.
He said Powys council was expected to make a planning decision in about six weeks.
Mr Mills said BT sold the former public payphone to the town council a couple of years ago.
"It stood there for a bit while we decided what to do with it and then we decided it would make a good tourist information centre," he added.
"We painted it blue to match the colour on the town newsletter and it is quite eye-catching in blue, but since then we've discovered that we needed planning permission to repaint it.
"We knew the phone box was listed but we didn't realise we'd need planning permission to repaint it."
Some 33,000 payphones, more than a third of the total, have disappeared since numbers peaked in 2002, and 1,000 more will go before the end of this year.
On average just one phone call a day is made from each of the 58,500 remaining payphones. In rural areas they are used even less frequently, says BT.