Garreg Lwyd Hill wind farm plan refused by Powys councillors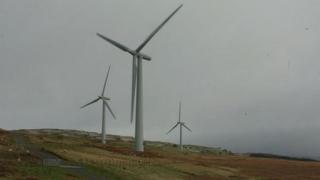 Plans for 23 wind turbines measuring 126m (415ft) have been unanimously refused by Powys councillors.
Powys council said the turbines at Garreg Lwyd Hill, near Llanbadarn Fynydd, would have an adverse impact on the landscape and views in the area.
Another application for road upgrades in Newtown, over 10 miles away, to carry abnormal loads to the wind farm, was also refused.
Both applications had been recommended for refusal by council officers.
A report before the council's planning, taxi licensing and rights of way committee said: "Although significant weight must be given to the benefits of securing renewable energy, it is considered that on balance the proposed development's adverse landscape impact, visual impact and cultural heritage impact outweighs the benefits of securing renewable energy.
"The recommendation is therefore one of refusal."
The wind farm, planned by energy company RES, would have had the capacity to produce just under 50 megawatts. The UK government decides those wind farm applications capable of producing more than 50MW.
The proposed wind turbine site covered around 440 hectares (1,087 acres).
After the planning meeting RES said it was disappointed by the decision.
It said the planning application was originally submitted in 2008, but a decision was deferred a number of times by the council for "supplementary environmental information".
Richard Evans, RES head of development in Wales, said: "We felt that the evidence we had presented in the original application and supplementary reports clearly demonstrated that the wind farm would have no significant effects on local people, the local environment or local wildlife.
"In addition, the wind farm was proposed for a site lying entirely within an area designated for renewable energy development."
'Strongly against'
But Montgomeryshire's Conservative Assembly Member Russell George said the council had made right decision in refusing both the applications.
"I am strongly against the proliferation of onshore wind farms in Montgomeryshire which would lead to the industrialisation of our beautiful mid Wales landscape," he added.
Opposition to wind farms has grown in Powys since plans were unveiled to build an electricity sub-station in the county.
Cefn Coch, near Llanfair Caereinion, was chosen as the preferred site for the sub-station in July last year.
Three months ago, hundreds of protesters gathered in Welshpool to mark Britain's biggest ever public inquiry into wind farms.
An alliance of 21 organisations oppose plans by six energy developers for northern Powys. The council has earmarked £2.8m from reserves to fund the inquiry.