Aberystwyth planning row student flats face demolition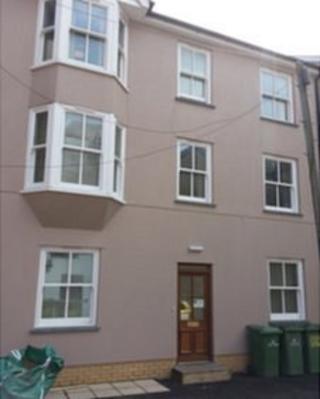 A block of student flats is facing demolition after its owner was fined £20,000 for breaching a planning enforcement notice, it has emerged.
Aberystwyth accountant Geraint Dafis had denied the charge but was found guilty at a trial last week.
Ty Newydd flats in Queen's Road in the town were issued with the notice in 2011 because they had not been built "in accordance with the plans".
Ceredigion council said Mr Dafis had had permission for a smaller home.
Mr Dafis has been asked to comment.
Along with Ty Newydd, an extension to the Boar's Head Hotel flats next door, which are also owned by Mr Dafis, are facing demolition after they too were issued with an enforcement notice.
It followed two retrospective planning applications for an extension to the Boar's Head flats which were refused.
Ceredigion council is demanding the flats are pulled down by June 2014. Both blocks are thought to house up to 50 students.
Aberystwyth Magistrates' Court confirmed Mr Dafis had been fined £20,000 for being in breach of an enforcement notice under the Town and Country Planning Act 1990.
The court said he was also ordered to pay costs of £6,000 to Ceredigion council and a victim surcharge of £120.
Ceredigion council said Mr Dafis had been given planning permission in 2010 to build a detached three bedroomed family house with a garage and parking.
However, it said he erected a far bigger building with at least double the bedrooms, three large bathrooms and considerably more living areas.
There was also no space available for parking and rather than a single family home, it has been used to accommodate students, it added.
Postpone
The authority said that after Mr Dafis did not comply with an enforcement notice requiring the building to be demolished, he was prosecuted for breach of the notice.
Councillor Gethin James, Ceredigion council's cabinet member for lifestyle services and waste, said the decision to take action was vindicated by magistrates who imposed the maximum penalty possible for the offence committed.
"The authority views any breaches of planning control seriously and it is committed to taking action against such flagrant breaches of enforcement notices," he added.
The council has said Mr Dafis originally had to demolish the Boar's Head extension within six months from the notice taking effect on 19 June.
But after receiving a number of calls from tenants it said it would postpone any demolition of the flats until the end of the summer term in 2014.