Parking action group to combat Pontneddfechan problems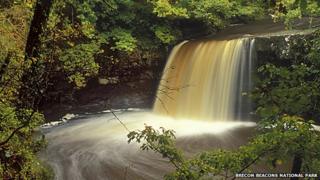 An action group has been formed in a Brecon Beacons beauty spot to tackle traffic problems caused by growing visitor numbers.
Pontneddfechan is in an area known as waterfall country and attracts families and activity groups.
The action group's chairman claims villagers fear leaving their homes at weekends because they could lose their parking space outside their home.
The group also includes Brecon Beacons National Park and Powys council.
It is looking at a number of options including a new car park.
Action group chair and Pontneddfechan's Powys county councillor David Thomas stressed the area was not opposed to visitors but he said it wanted to manage the parking problems, especially at weekends.
He said there were already three car parks in the area but they had limited spaces.
"Over the years the area has become more and more popular, attracting more visitors partly because it's billed as waterfall country," Mr Thomas said.
"But this means there's a lack of parking, and residents are reluctant to leave their homes at weekends because they think there won't be a space for their car when they return."
Mr Thomas said visitors tended to park outside people's homes when there were no public car parking spaces left and these residential areas were then "choked up" with vehicles.
He said the action group had a number of options to discuss, including possible parking restrictions and a new car park.
'Right balance'
"This is something we have to discuss in more detail and the action group is planning to meet for the first time on 1 October," said Mr Thomas.
"People in Pontneddfechan are not anti-visitor but we need to manage the problem and find the right balance."
A meeting was held recently between residents and Brecon Beacons National Park Authority to discuss the issue.
National park chief executive John Cook said: "The meeting was convened to address the concerns of residents at Pontneddfechan regarding the pressure on local facilities, primarily parking, during periods of increased visitor numbers.
"It was broadly agreed that local services were being stretched at times at Pontneddfechan - on occasions to the detriment of local residents.
"What came out of the meeting was a determination by all parties to work together to resolve these matters.
"To achieve these aims, an action group was formed comprising representatives from Powys County Council, Neath Port Talbot Borough Council, Brecon Beacons National Park Authority, Natural Resources Wales, the local community council and local residents."