Welsh-medium school plans go on display in Newtown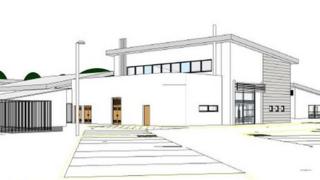 Plans for two new primary schools in Powys have gone on public display.
A new 300-pupil Welsh-medium school is earmarked for Newtown, while a school with room for 240 children is planned for Hay-on-Wye.
Powys council is aiming to open the school in Newtown in 2015 and a planning application will be submitted next month.
The Hay school development could also include a new town library and youth facilities.
The plans are on display at Hay-on-Wye and Newtown libraries until 16 and 20 September respectively.
If plans are approved for the Newtown school, which will replace Ysgol Dafydd Llwyd, building work on land at the town's high school could start in the spring next year.
'New facilities'
A Powys council spokesman said the plans would include facilities for children with learning needs and community learning for adults.
"It will also provide early-years education and care facilities for up to 70 part-time and full time children as a replacement for Cylch Meithrin, which is currently co-located with the school," said the spokesman.
The plans for Hay-on-Wye could see the existing school replaced with a new building.
"The latest plans (for Hay) also propose shared community facilities that will provide a replacement town library, youth facilities and new facilities to support adults," said the council spokesman.
The local registrar's offices could also move to the new development within three years and discussions are also being held with the town council.