April Jones: Memory fund cash stolen from Machynlleth cafe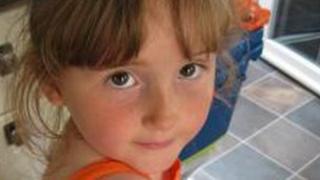 Donations to a fund set up in memory of murdered April Jones have been stolen from a cafe in her home town.
A cupcake-shaped box, which was believed to have contained about £90, was taken from the counter at Chimes cafe in Machynlleth, Powys.
Town councillor Michael Williams described the theft as a "loathsome and despicable act".
Local man Mark Bridger was jailed for life in May for April's murder and abduction in October last year.
April's Fund was set up soon after the five-year-old girl's disappearance and in July officials said more than £70,000 had been raised so far.
Wales football manager Chris Coleman and a host of other former soccer stars played in Machynlleth in July to raise money for the fund.
Meanwhile, a charity auction last November raised more than £4,000, with donations of shoes from Hollywood actress Catherine Zeta Jones and a diamante-studded denim jacket from singer Bonnie Tyler.
The theft of the charity money angered Machynlleth town and county councillor Mr Williams.
"An absolutely loathsome and despicable act," he said.
"I don't think one can get any lower when one commits such a crime as to steal a charity box. Absolutely unbelievable.
'Particularly generous'
"The people I have spoken to in Machynlleth feel exactly the same as I do that it's something that one can hardly contemplate someone doing, particularly in the light of why the money was collected.
"People in Machynlleth have been particularly generous towards the April Jones fund."
A spokesman for Chimes cafe said the money had been raised from sales of CDs recorded for April's Fund, which are sold at the cafe.
"We also put our tips in the box," he added.
"The box was on the counter and last Thursday the boss went to add some tips to it and discovered it had gone. We then reported the theft to the police."
Dyfed-Powys Police confirmed they had received a report of stolen money from the cafe and were investigating.