Aberystwyth Tesco and Marks and Spencer plans submitted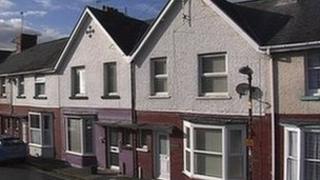 Developers have submitted a planning application for a controversial shopping development which could see a grandmother lose her home.
Tesco and Marks and Spencer stores are part of the scheme in Aberystwyth which could create about 280 jobs.
Twelve homes in Glyndwr Road face demolition under the proposals but Enid Jones, 57, is the only resident refusing to sell.
Ceredigion council has voted to issue a compulsory purchase order for her home.
The final decision about whether to demolish Mrs Jones's home will be made by the Welsh government.
The shopping development is earmarked for the council-owned Mill Street car park.
The two supermarkets are due to open by December 2016.
The council claims the development will boost town centre trade by between £1.6m and £3.5m a year.
"The planning application has been submitted and a total of eight site notices have been placed in and around the site to notify the public that the application has been submitted," said a council spokesperson.
"The application will not be reported to the September planning committee. It's too early to say when the application will be reported to the planning committee but the council will be aiming to report it to members before Christmas.
Parking spaces
"Members of the public will have three weeks to submit representations to the council.
"It should be noted that any representations received after the three weeks up to the determination of the planning application will be taken into account by the council."
Mrs Jones is refusing to sell her home despite facing a compulsory purchase order (CPO) which councillors voted in favour of in May.
The CPO relates to Mrs Jones's home in Glyndwr Road and two pieces of land nearby.
Residents have also raised concerns about plans to demolish the town's 109-year-old Drill Hall to make way for the stores.
Tesco is planning a 25,000 sq ft (2,300 sq m) supermarket on the Mill Street car park site, while Marks and Spencer wants to build a three-storey, 36,000 sq ft (3,300 sq m) store.
The project also includes 550 car parking spaces, more than double the current number available.