Powys 'mega dairy': Welsh government misses deadline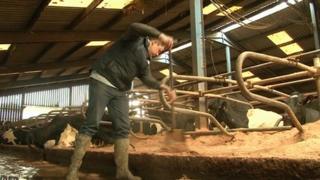 The deadline on whether to give the go ahead for a major expansion of a dairy next to a village primary school has passed without a decision being made.
A Welsh government spokeswoman said the plans were being considered and a decision would be made as soon as possible.
Fraser Jones wants to build a 1,000-cow so-called "mega dairy" at his farm in Leighton, near Welshpool, Powys.
If given the go ahead, it would be one of the first such dairies in Wales.
The plans include three large buildings, a fodder storage unit, two slurry stores and a water storage tower.
But villagers have said it will be too close to their homes and the school.
They raised concerns over the possible noise, smell, flies, pollution, increased traffic, the size of the development and its visual impact.
Mr Jones, who currently milks 300 cows, has said he has gone to great lengths to address concerns, and has included measures to monitor flies, the smell and animal welfare.
In November 2011, Powys council's planning committee said it was minded to approve the dairy application subject to a report about "outstanding issues". It had been recommended for refusal.
But the matter was discussed again last October after changes in the council's constitution and committee membership, and it was rejected.
The Welsh government called in the application in January last year and a public inquiry was held.
The eight-day inquiry heard from Mr Jones and residents who opposed his scheme. The inspector holding the inquiry submitted her report to Welsh ministers.
A target date of 24 July for the decision was set.
A Welsh government spokeswoman said: "That's when our officials were aiming to have a decision by and since then they've written to the relevant parties to let them know a decision will be taken as soon as possible.
"The officials were working towards that date. There's lots of work to be done along the way."