Railway carriage restoration bid by Erwood craft centre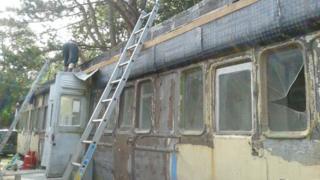 The owners of a former railway station in Powys are campaigning to raise £5,000 to turn a derelict steam train carriage into an arts venue.
Since 1984 Erwood Station and two vintage carriages have already been restored for use as a craft centre.
The centre's friends organisation says an 1890 carriage could be used as an indoor workshop and exhibition space.
Erwood was on the former Mid Wales Railway (MWR) between Llanidloes and Brecon which closed in the 1960s.
The line became part of the Cambrian Railway in 1901 but Erwood station eventually closed in 1962 as part of the Beeching cuts to the railway network.
The derelict station was bought in 1984 by Alan and Erika Cunningham who opened a craft centre on the site.
The centre, which claims to support more than 100 Wales-based artists and crafts people, is now run by their son, Michael, who is also chairman of Friends of Erwood Station.
Since 1984, two GWR train carriages and an old Victorian signal box have been restored.
The friends' organisation is appealing for money to restore the outside of a third piece of rolling stock - a former British-made 24m (78ft)-long six-compartment carriage.
Michael Cunningham said the craft centre would pay for the interior to be made into an open-plan space.
He said: "It's been under covers for 15 years. The longer it spends idling, the more it will take to finish it.
"The time has come to restore it. It's in everyone's interest to see what the train carriage looks like.
"It would have had six compartments, each with two bench seats but we will keep it open otherwise it would have much less usable space."
The carriage would be static but placed on rails to give the impression it was still on a railway, said Mr Cunningham.
The space would be made available to hire for private events but could be provided free of charge to certain groups and organisations.