Stolen parrot silent after burglary at Churchstoke store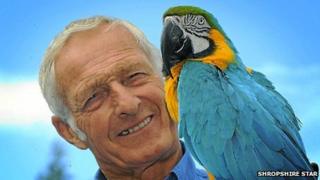 Sam the macaw is back on his perch after being stolen in a break-in at a Powys store.
The 30-year-old bird was taken in a burglary at Harry Tuffins in Churchstoke on Friday night.
But he was tracked down by Dyfed-Powys Police after they studied CCTV footage.
"He's a little bit cowed - he was probably in a box most of the time but he hasn't told me what happened," said owner Roy Delves.
Mr Delves, 75, who used to own the store, introduced Sam to customers 15 years ago and he has become a firm favourite.
"He's really a community parrot so I wouldn't like to say I own him now," said Mr Delves.
"Everyone's been to see him since he got back."
"He was in his cage in the veranda of the shop when they bust the door open and that's all they took."
Sam was eventually tracked down in Newtown and returned by police on Sunday.
"This theft certainly ruffled a few feathers, and such is Sam's popularity locally that officers were determined to find him and bring him home," said Inspector Jon Tatton of Dyfed-Powys Police.
"This incident goes to show the lengths our officers in Dyfed-Powys will go to in order to find offenders and detect crimes."
A man from the West Midlands has been questioned and bailed pending further inquiries.