Campaign to commemorate 'forgotten' WWI soldier Robert Corfield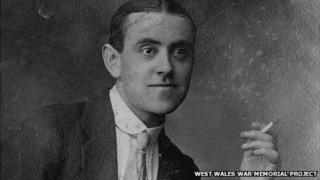 A military historian is campaigning for recognition for a soldier killed while training for World War I.
Gunner Robert Corfield from Aberystwyth signed up within a week of the outbreak of war, but never made it to the front.
Historian Steve John says such men are excluded from official records at the Temple of Peace in Cardiff, which lists over 35,000 Welshmen who died in WWI.
Mr John says the Army have been slow to respond to his call to recognise Gunner Corfield's sacrifice.
Almost 98 years ago to the day, he was posted with the Cardiganshire Brigade of the Royal Field Artillery to Bedfordshire to undergo basic training in preparation for their deployment to the Western front.
But on 26 August 1915 Gunner Corfield slipped from the artillery piece on which he was riding and his head was crushed under the wheel of the horse-drawn vehicle.
Captain John Cook of the Royal Army Medical Corps battled at the scene to save the soldier's life, but his head injuries proved too severe and he died shortly afterwards.
'Prepared to fight'
"The memory of Robert Corfield deserves to be commemorated on the nation's official Debt of Honour," said Mr John, who is also an author from the West Wales War Memorial Project.
"The coroner at the inquest into his death made clear that he was prepared to fight for his country and had died as nobly as if he had been fighting.
"However, 12 months after submitting details of his death to the Ministry of Defence his case has still not been considered.
"While the Royal Air Force and Royal Navy continue to process cases promptly the Army has refused to handle any cases since the officer who previously dealt with claims retired in early 2012.
"Along with that of Robert Corfield, dozens of cases are sat gathering dust on a desk within the Army's Directorate of Manning."
The Commonwealth War Graves Commission said that without the benefit of computerised records, several thousand deserving casualties from World War I had "inevitably" been omitted from official records.
Part of the stated priorities of its 2011 to 2016 plan is to "construct new memorials for casualties not previously commemorated", it added.
However, the rules demand that before officially recognising a veteran, the Ministry of Defence (MoD) must first confirm that they are entitled to be commemorated.
The MoD has been asked to respond.