Matt Lucas backs fight for Llanddewi-Brefi primary school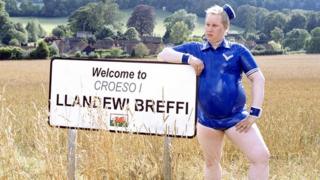 Little Britain star Matt Lucas is supporting a campaign to save the primary school in Llanddewi-Brefi where his character Daffyd was the "only gay in the village".
Lucas wrote to the school in Ceredigion saying he hoped it would stay open "to support the local community".
Ceredigion council is looking at moving the 43 pupils to nearby Tregaron because pupil costs are too high.
Llanddewi-Brefi was put on the map by the cult BBC comedy Little Britain.
In his letter of support to the school Lucas, 39, said: "From what I have heard, the school is very much loved by the local community, particularly by the students.
"I think it is a shame that there are current plans to close it down.
"I would like to share my keen interest in keeping this school open in order to support the local community."
Lucas's Little Britain character Daffyd was an isolated and outrageously flamboyant character.
But while he flaunted his sexuality in a variety of flesh-baring rubber outfits and make-up, the villagers were completely indifferent to him and he was infuriated to encounter fellow gay people in virtually every corner of the TV version of the village.
Lucas was in Australia on Thursday but was being updated on the campaign to save the threatened school.
Under the plans, Tregaron and Llanddewi-Brefi primaries are facing the axe and their pupils could switch to Tregaron Secondary School, which could also lose its sixth form.
'Serious side'
But locals have vowed to keep it open saying they do not want their children to travel long distances every day.
One mother, who has a nine-year-old at the school, said: "We are all delighted that Matt has sent us a letter of support.
"He has been here to visit and although Daffyd is a comedy character this shows he has a serious side too.
"If the council won't listen to us perhaps they'll listen to Matt Lucas."
Chairman of school governors and the village's county councillor, Rhodri Evans, said: "A school is the heart of any community and this is very true for Llanddewi-Brefi.
"There are 33 children in the primary school and 10 in the nursery, which indicates a bright future for the school.
"These numbers are much greater than the council's education policy level for closing schools of under 20."
Mr Evans said a member of the community sent the letter to Mr Lucas because of Little Britain's association with Llanddewi-Brefi and he replied "straight away".
A Ceredigion council spokesman said: "We are committed to providing a sustainable and successful three to 16 education system in Tregaron area.
"The authority has been in pre-consultation with the catchment area of Tregaron Secondary School with regards to the future of education in the area.
"Considerations are now currently being given to this and recommendations will be presented in September."