Dyfi Ospreys named after rivers Cerist and Clarach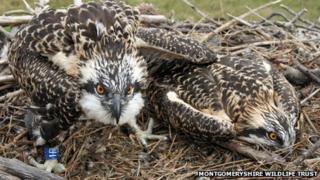 Two osprey chicks which survived despite being born six weeks later than usual have been given names.
Staff at the Cors Dyfi reserve near Machynlleth, Powys, named the female chicks Cerist and Clarach after two local rivers.
The young birds are expected to fly for the first time around 20 August and will migrate to Africa in September.
They have been given identification rings and it is hoped they will return to the area to breed in 2015.
There were concerns for the chicks when their parents - named Monty and Glesni - bred late in the season.
The two eggs were laid in late April and hatched at the end of May.
Emyr Evans, Montgomeryshire Wildlife Trust spokesman, said: "We successfully ringed both chicks with blue plastic rings identifiable as 1R and 2R. Cerist is 1R and Clarach is 2R.
"We hope they will return in future years when we'll be able to identify them by these ring numbers with binoculars or telescopes."