Glandyfi rebuilt safety wall on A487 'ruining views'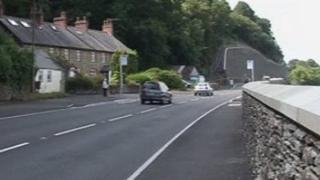 A wall which has been rebuilt at double its original height is ruining views of the Dyfi estuary, say residents.
Widening work was carried out on the A487 through Glandyfi to improve safety and the wall was taken down while it was done.
However, residents have started a petition to complain about its size after the wall was rebuilt.
The Welsh government said it was part of a scheme to reduce road accidents.
One of the residents Ursula Byrne said at 1.5m (about 5ft) the wall was twice the height of the old one and further from her house.
She said it now obscured the view of the estuary, a Special Protection Area and wildlife haven.
The wall separates the A487 from the railway and acts as a protection from falling vehicles.
Ms Byrne said she was told by the Welsh government it would be rebuilt at the same height.
The former community councillor said the height was changed at a later date and she would have objected to the proposal at the beginning had she known about the final size.
She and other residents have started a petition to have the wall lowered.
'Protection'
"The man issue is that the government did not communicate adequately about the height of the walls," Ms Byrne said.
"I was told it was going to be 700mm. It's actually 1,500mm high.
"My objection is that they changed the plans. Had I known they were going to build a higher wall, I would have objected when I had the chance at the beginning.
"The work has to be done. There were lots of low level accidents, lots of wing mirrors knocked off cars.
"In terms of the height they are claiming they are National Rail regulations. I'm saying they should have known what National Rail regulations were."
A Welsh government spokesperson said: "The wall has been built to reduce the rate of road accidents at Glandyfi, which is currently three times the national average.
"It has been built to meet national standards and the requirements of Network Rail, to provide protection to the railway line and nearby properties from the risk of falling vehicles.
"A viewing platform has been built in the lay-by to allow views across the estuary."