Brecknock Museum and Art Gallery wins £2.5m lottery funds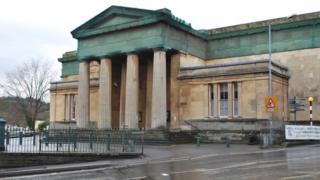 Plans to refurbish a museum and art gallery in Brecon have won nearly £2.5m from the Heritage Lottery Fund (HLF) four years after a previous bid failed.
Grade II-listed Brecknock Museum and Art Gallery is regarded as one of the finest examples of early Victorian Greek revival architecture in Wales, says HLF.
But the former court building needs repairs to its stonework and roof.
Powys council first applied for the lottery funding in 2009.
The council-owned building houses one of the largest art collections in Powys.
The improvements funded by the HLF money will form part of wider £8.4m plans for a cultural and community hub and new library in Brecon town centre.
The proposals for the museum include a dedicated learning space, the expansion of the education and outreach service and new digital equipment to help with presentations.
'Valuable structure'
The HLF said its funding would help safeguard the museum and art gallery, which was originally built in 1842, for the future.
Trustee and chair of the Heritage Lottery Fund Wales committee Dr Manon Williams said: "This is a significant grant awarded to a very exciting project and we are delighted that the UK board of the Heritage Lottery Fund have recognised its potential.
"Not only does the Brecknock museum contain significant historical collections but the building itself is a valuable architectural structure which can now be safeguarded for the future."
HLF also said the new funding would make the museum more accessible by creating a more "logical ordering of the collections and its space".
Powys council's cabinet member for arts and culture, Graham Brown, said the restoration would provide impetus to the area's regeneration and a much needed financial boost to the local economy.