Mobile phone coverage loss claim urged by AM Kirsty Williams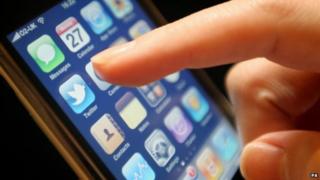 Mobile phone customers in mid Wales have been urged to claim compensation from their network provider after months with poor signal coverage.
Brecon and Radnorshire AM Kirsty Williams said EE customers in Brecon, Builth Wells and Crickhowell had been suffering since February.
Ms Williams claimed EE had turned masts off without warning their customers.
But the firm said the problems were due to technical faults with masts rather than any being switched off.
The Welsh Liberal Democrat leader said the poor signal coverage started following the merger of mobile phone companies T-Mobile and Orange to form EE.
Ms Williams claimed masts were then switched off. The problems caused by this have affected the AM personally.
She said her nine-year-old daughter Carys suffered an asthma attack during a music class and teachers were unable to contact her on her mobile phone. She had to take her daughter to hospital when the school eventually reached her.
Ms Williams said her constituency office was inundated with complaints from EE customers after she launched an appeal on Facebook for those affected to contact her.
"They [EE] rationalised some of their masts, so turned off a load of masts, didn't tell anybody that's what they were doing so all of a sudden there was a significant drop in coverage for my constituents," said Ms Williams, who raised the problem during a conference with Ofcom and the Farmers' Union of Wales at the Royal Welsh Show.
"It's particularly difficult because Orange had traditionally been seen as one of the networks that had better coverage.
'Huge problems'
"They just turned off a load of these masts, created huge problems, with people not being able to get a signal at all or calls dropping out during mid-conversation or calls not being able to connect at all because either there was no coverage or there was too much demand placed on the coverage that was left.
"In June, following pressure from myself and Ofcom they [EE] did give a commitment they would turn some of the masts back on but were experiencing technical difficulties."
But the AM said there had not been an obvious improvement in coverage since.
An EE spokesperson said: "We are working hard to resolve the coverage problems that are currently affecting some customers in the Brecon area.
"The issue has been caused by technical faults at local masts rather than, as reported, being the result of the removal of masts.
"The masts that were removed provided duplicate coverage to those that remain.
"We are working with our partners to find a fix on the remaining masts to restore full coverage as soon as possible, and apologise for the inconvenience caused."
Rhodri Williams, Ofcom's director in Wales, said he had contacted EE to ask how the firm intended to solve the problem.
"It's a problem that has only appeared on our radar relatively recently and it's one we'll be keeping a close eye on going forward," he added.
"It's not something that we think is just going to disappear overnight and we do have evidence that it has appeared in other parts of the UK as well."