Royal Welsh Show: Action plan launched to halt bee decline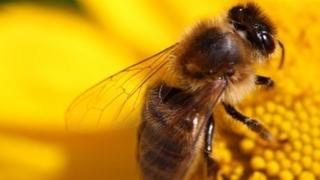 An action plan to boost Wales' bee population has been launched in a bid to halt their decline.
The value of pollinators to the UK as a whole is estimated to be £430m a year but their numbers have been falling for 30 years.
Natural Resources Minister Alun Davies launched the plan at the Royal Welsh Show after public consultation.
The Welsh government wants to encourage green spaces, gardens and allotments to help the pollinators.
It announced at last year's Royal Welsh that it was drawing up an action plan to protect endangered insect pollinators such as honey bees, bumble bees, hoverflies and butterflies.
Since then it has held a review to look at the reasons for the insects' decline.
The plan will focus on four areas:
Bringing together policies and evidence as a base for action
Providing diverse and connected flower-rich habitats to support pollinators
Ensuring pollinator populations in Wales are healthy
Raising awareness to ensure people in Wales are better informed about how to manage land to attracts bees and pollinators.
As part of the plan, the Welsh government will establish a Pollinators Taskforce, which will help develop an awareness campaign and a best practice guide for councils.
"Bees and other pollinators, like much of our wildlife, have been in decline for many years," said Mr Davies.
"We need to take action to help and protect our wildlife - and that is why I have launched this plan today."
Mr Davies also launched a new campaign by the Woodland Trust to persuade farmers to grow more bee-friendly plants.
Friends of the Earth bee campaigner Bleddyn Lake hopes the plan will include help and advice for farmers and communities and will see pesticide regulations devolved to the Welsh government.
"We're hoping it will mean support for farmers and local authorities to reduce herbicide use and provide more forage areas," he said.
"Help needs to be given to communities, schools, businesses and the public to create pollinator-friendly areas, to replace some of the 97% of wildflower meadow areas lost since 1930."
The Woodland Trust is offering farmers and other landowners "pollinator packs" of 210 native trees.
The packs are subsidised and will cost around £70.
Jenny Shaw, vice chair of the Welsh Beekeepers' Association, said: "Trees and shrubs are very important as early and also as late sources of nectar and pollen, and also as good nesting sites for many of our native pollinators.
Brain function
"A sycamore in flower absolutely hums with bees. Willow and hazel catkins are really important because they come out at a time of year when there isn't much else in flower.
"So I'm delighted that the Woodland Trust have made these pollinator packs available and I very much hope that many farmers and landowners will apply for them and plant them out."
The six wildlife trusts in Wales want a ban on the use of three types of chemicals known as neonicotinoids found in pesticides.
They claim the chemicals have been shown to affect the foraging behaviour of bees and damage bee brain function.