Royal Welsh Show: Hot weather warning by St John Wales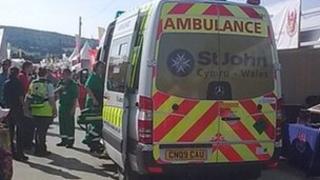 Visitors to next week's Royal Welsh Show have been warned to be sensible in the sun after first aiders were overwhelmed by casualties last year.
St John Wales declared a major heatstroke incident at the 2012 event in Llanelwedd, Powys.
It treated over 800 casualties, many suffering from sunburn and dehydration.
With temperatures hitting 30C (86F) this week forecasters have said the hot weather was expected to continue for several days.
At one stage during last year's show St John volunteers were treating up to 40 people an hour for heat-related problems.
Such was the demand for space that some casualties were treated in the kitchen at the charity's first aid centre on the showground.
An inflatable tent was eventually erected to provide more treatment spaces.
The most serious case involved a man who suffered first degree burns and heatstroke.
He received 40% to 50% burns to his body after being in the sun all day and was given morphine and intravenous fluids before being transferred to Morriston Hospital, Swansea.
Food and drink
St John Wales urged people to take precautions and to be sensible in the hot weather.
Chief executive Keith Dunn said: "We'd like to remind people to wear appropriate clothing, make sure they apply sunscreen regularly during the day and stay out of the strong midday sun.
"I'd also like to remind people to drink plenty of water to avoid becoming dehydrated.
"Sunburn, heatstroke and heat exhaustion can be fatal."
St John volunteer and nurse Hazel Cook, who has worked at the show for 45 years and runs the charity's first aid post, said: "Wear appropriate footwear and clothing and make sure you apply sunscreen before and during the day, even if it's overcast.
"I'd also like to remind people to keep hydrated with plenty of water and eat sensibly throughout the day."
St John Wales volunteers will be on call 24 hours a day at the showground until 26 July.