Owain Glyndwr Centre in Machynlleth at risk of closure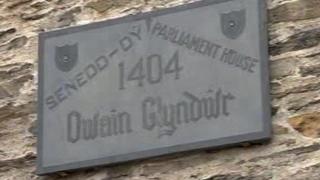 A visitor centre which is believed to stand on the site of Owain Glyndwr's old parliament is under threat, just two years after a major revamp.
The Owain Glyndwr Centre in Machynlleth, Powys, tells the story of the Welsh uprising from 1400.
But a slump in visitor numbers and a lack of income means it could shut in a matter of months, its managers warn.
The centre is inside the Grade I-listed Parliament House and received a £275,000 grant in 2010.
The money came from the historic monuments agency Cadw and the centre reopened in 2011 following refurbishment.
The centre also received £41,000 from Cadw for a new heating and lighting system and for the restoration of a mural of Glyndwr leading his warriors into battle.
Uncertain
But a meeting of the centre's committee on Tuesday night heard that the tourist attraction could now be in jeopardy.
It was told that 1,800 people visited the centre in the summer of 2012 and so far this year tourist numbers are down by a third.
Following the meeting the committee's chairman Henry Evans said a lack of income, fewer visitors and a shortage of volunteers meant the future was uncertain.
He said he was keen to speak to Cadw about the possibility of handing responsibility for the centre over to it.
Cadw has been asked to comment.
The Owain Glyndwr Centre opened in 1981.
Parliament House was built in about 1460 and is understood to stand on the site of Glyndwr's parliament.
The rebel leader was crowned as Prince of Wales at Machynlleth in 1404 and is regarded by many as one of the heroes of Welsh history.
A new Glyndwr exhibition was unveiled when the centre was reopened in 2011.
The exhibition includes a video telling the story of Glyndwr's Parliament of 1404, a replica broadsword, period costumes and banners.