Aberystwyth Arts Centre director Alan Hewson retires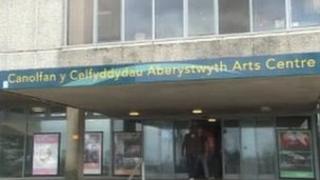 The director of an arts centre at Aberystwyth University - where it was claimed he and another manager had been suspended - is to retire.
Nearly 2,000 people had signed a petition calling for Aberystwyth Arts Centre's Alan Hewson and operations manager Auriel Martin to be reinstated.
Mr Hewson announced his retirement after 28 years of heading the centre.
The university paid tribute to him, but has never confirmed or denied staff suspensions.
The arts centre was in the headlines in February after police stopped a dance music event temporarily when they were told a baby was in the audience.
The university said at the time music at the Black House gig was stopped so the mother and baby could be found, but it is understood they had already left.
A new joint statement by the university and Mr Hewson announcing the retirement said he had "enjoyed the many challenging and very rewarding years working with such a creative and committed team to place the arts centre at the heart of the community".
Mr Hewson thanked the "loyal and committed audiences" it had been his "privilege" to serve.
The university's pro vice-chancellor Prof Aled Jones said Mr Hewson had made a very significant contribution over many years to the development of the arts centre's artistic programme.
Previously, campaigners had claimed planned changes at the centre would be undermined by "heavy-handed restructuring".
They had called for Mr Hewson and Ms Martin to be reinstated.
'Duty of care'
In a statement at the time, the university said it was "disappointed and saddened" by various messages circulating which seem intended to increase public concern about the future of "our excellent arts centre".
"Many of the responses we have received, to which we are of course responding individually, stress the happy mixture of university and community use which is currently characteristic of the arts centre - but this is exactly what we want to preserve and enhance," said the statement.
"The university categorically states that there is not and has not been any university plan to reduce or limit public and community access to the arts centre.
"The forthcoming arts centre strategic plan, which has been approved by the centre's own advisory board and the University's Council, makes it clear that it is the intention of the university and the arts centre to continue providing excellent facilities, performances, courses and events for the broader community."
The statement added: "The university has a duty of care to all its staff and it takes this obligation very seriously.
"Aberystwyth University has not confirmed or denied alleged suspension of staff in any public statement or to any press or media, and will not do so."