Benjamin Britten: Gregynog Festival marks composer's centenary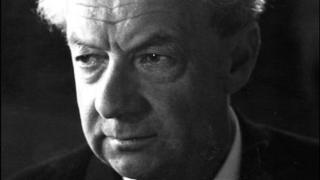 A classical music festival celebrating its 80th year is marking the centenary of the birth of composer Benjamin Britten, who appeared there in 1972.
As part of the landmark anniversary Britten's music will be performed at Gregynog Festival near Newtown, Powys.
It was founded by art collectors and sisters Gwendoline and Margaret Davies, who attracted some of the world's finest musicians.
Among them were Edward Elgar, Gustav Holst and Vaughan Williams.
Britten, who died in 1976, was one of the 20th Century's most respected composers, with operas such as Peter Grimes and Billy Budd. His other works include The Young Person's Guide to the Orchestra.
This year's Gregynog event is themed Great Britten and is special for its artistic director, Rhian Davies.
She met Britten when he appeared at Gregynog 41 years ago and said: "This year's theme means a great deal to me and to others who grew up in Montgomeryshire during the 1970s.
"Some of our most vivid memories are associated with the music of Benjamin Britten and the pioneering performances of Noye's Fludde and A Ceremony of Carols which my mother Jayne Davies directed at Newtown High School and for BBC Wales television.
"I also still have the autograph which Britten gave me after he performed at Gregynog with Peter Pears and Osian Ellis in 1972.
"I never dreamt, of course, that 40 years later it would fall to me to programme the same festival in his honour."
Britten 100, a global celebration of the composer's centenary, is being marked around the UK this year.
His music will be performed at Gregynog along with the work of other composers who have appeared there such as Elgar, Vaughan Williams and Holst.
"Most of the festival's headline concerts take place in the purpose-built music room at Gregynog which provides such an intimate and magical space in which to enjoy chamber music," added Ms Davies.
"It is all the more remarkable when you consider that this is the same room to which Gwendoline and Margaret Davies invited the finest musicians of their day, including Elgar, Holst and Vaughan Williams."
The festival also extends into the surrounding community and to other parts of Wales.
One performance by the classical choir Tallis Scholars will be held in nearby Montgomery church, while the Escher String Quartet will play in the Reardon Smith Theatre at the National Museum of Wales in Cardiff.
Other festival performers include harpist Catrin Finch, soloists Iestyn Davies and Thomas Dumford, the German ensemble Harmonie Universelle and cellist Guy Johnston.
The event runs until 30 June.