Llansanffraid village spelling row over 't' heads for vote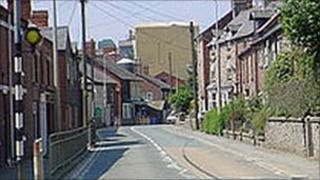 It is only a missing "t" but a row over the spelling of a village's name may have to be settled by a referendum.
Llansanffraid-ym-Mechain was spelled Llansantffraid from the 1800s until Powys council dropped the "t" in 2008, saying it was correcting a mistake.
Now the community council has voted to reinstate the "t" and plans to poll residents but has suggested a compromise of using a dual spelling.
One councillor says the name change has been a hot topic for over 10 years.
Powys council argued in 2008 that it was correcting a mistake dating back to the mid-1800s when Llansantffraid - named after the female Celtic Saint Brigit - wrongly described her as a man.
Dropping the "t" from the name correctly identified her as a woman, said the authority.
The decision sparked a row in the village and two years later more than 70 villagers agreed in a survey that the "t" should be restored, with only three opposing.
Community councillor Gwynfor Thomas, who is also the village's Powys county councillor, said the problem had rumbled on for too long.
"There is talk of a poll but we are in the process of gathering all the information necessary so villagers can make a judgement - why it was changed, what are the origins of the spellings and what the advantages are for the village?" he said.
'Compromise'
"It's been christened a referendum but the community council has never called it that, but I have no problem with calling it that.
"It (the name change debate) goes back to 2001 when we were asked for our opinions about the change of spelling and it seems we've been discussing it ever since."
Mr Thomas said the community council had voted to reinstate the "t" but had recently suggested using both spellings of the village as a compromise.
But he said there was opposition to that too and people on both sides had taken to making their own changes to village road signs.
"Both sides have been defacing the road signs in the village and that needs to stop," he added.