Osprey sightings in Dyfi Valley soar, say wildlife experts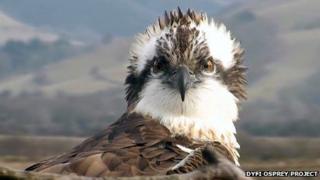 Osprey sightings in Powys are soaring two years after the birds starting breeding there again following a 400-year hiatus, wildlife experts say.
Montgomeryshire Wildlife Trust is monitoring the number of ospreys intruding on the current breeding pair's nest in the Dyfi Valley.
There have been 45 incidents so far, compared to 52 between late March and September last year.
The first Osprey chick in the valley for 400 years hatched in 2011.
Eggs laid
The birds of prey have been nesting on a 30ft (9m) man-made nesting platform at the Cors Dyfi reserve near Machynlleth.
Built on top of a telegraph pole, it was first erected in 2007 and dotted with white paint to resemble bird droppings, which experts said made it more authentic.
It has also been popular with tourists, with an average of about 30,000 people visiting the nesting site annually.
Janine Pannett, who works on the trust's Dyfi Osprey Projects, said there had been an increased number of osprey sightings this year.
"We've seen 45 nest intruding incidents but there have been repeat intrusions from the same birds," she said.
"Saying that, we've identified seven separate birds in the area and it's possible it could be double that.
"But there are no indications yet that these birds are settling down in the valley and breeding. They might just be passing through."
The Dyfi Valley's breeding pair have about 10 days until their two eggs are expected to hatch.
Ms Pannett said ospreys were still persecuted and egg collecting remained a problem in the UK.
Up to 40 volunteers from Montgomeryshire Wildlife Trust ensure the nest is watched 24 hours a day during the six-week incubation period.
"We would like to see an extended breeding colony in the valley to restore the Osprey population to what it once was. There are still only 300 breeding pairs in the UK," she added.
The breeding ospreys were featured on the BBC's recent Springwatch programme based at nearby Ynyshir nature reserve.