John Beddoes School takeover backed by Powys council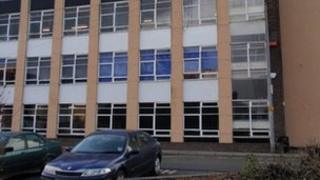 The takeover of a struggling secondary school by another comprehensive has been backed by Powys council.
John Beddoes School in Presteigne is set to shut in January and will become a campus of Newtown High School, more than 30 miles away (50km).
The move has met objections and some local people have staged demonstrations.
But the school is in special measures and the council has pointed to poor exam results and falling pupil numbers.
Powys council's cabinet also backed a recommendation to close John Beddoes School's sixth form from September 2014.
An expanded Newtown High School will operate as a split-site campus with children aged between 11 and 16 educated in Presteigne.
A report before the cabinet by Myfanwy Alexander, who is responsible for education in Powys, said in order for children to receive high quality education it was essential "all schools are judged to be good schools".
"The council faces a risk of not achieving this priority which will lead to learners in the east Radnorshire area continuing to be disadvantaged if the serious issues facing John Beddoes School are not addressed in a timely manner," added Ms Alexander.
John Beddoes School was placed in special measures last December after a poor inspection report.
Powys council has said the school's exam results in recent years have been poor and it is band five ranked, while pupil numbers have dwindled from 550 to 350 in five years.
Members of the Friends of John Beddoes School action group said they would continue to fight the closure and takeover of the school.
"I'm disappointed and angry by the council's decision," said group spokeswoman Hilary Marchant. "We intend to launch an appeal with Education Minister Leighton Andrews and an appeal with the council's chief executive over the consultation process.
'Full of jargon'
"The consultation documentation was full of jargon and the council made no attempt to make it clear or easy to understand what their intentions were.
"This has always been about closure and has never been about improvement."
Powys council said it held public consultation meetings in Presteigne and Newtown and spelled out exactly what the plans were for John Beddoes.
Meetings were also held with school staff in Newtown and at John Beddoes and with pupils in Presteigne. The cabinet also approved the closure of Llanigon primary school at its meeting on Tuesday.
Ten of its 14 pupils will be transferred to nearby Hay-on-Wye school with effect from 31 August 2014, with the remaining four moving up to high school.
The council said the cost per pupil at Llanigon was the highest among primary schools in the county at £8,253, compared to the average cost of £3,603.