April Jones' sister skydives for search and rescue team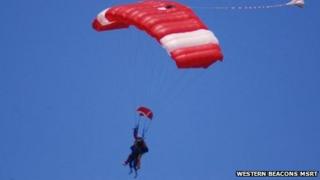 The teenage sister of April Jones has skydived 13,000ft (4,000m) to thank a volunteer rescue team who searched for the five-year-old.
April's disappearance from Machynlleth in October prompted one of the biggest search missions in UK police history.
Her half-sister Hazel, 19, wanted to raise money for the Western Beacons Mountain Search and Rescue Team, who she said "showed amazing courage".
A spokesman said the skydive at Swansea went well and Hazel had "loved it".
Announcing her plans via the JustGiving website, Hazel Jones paid tribute to the mountain rescue team for their "amazing courage and dedication to the search of my little sister April Jones when she went missing".
"They battled all types of terrain and horrendous weather conditions and although she was never found, they, like Paul, Coral [April's parents] and so many other people never gave up hope."
Miss Jones has raised almost £4,000 in donations for the search and rescue team.
The independently funded group is called upon to help specialist police teams in mountainous, remote and rough terrain.
A spokesman said its operational costs were between £10,000 and £15,000 per year and only partly offset by a Welsh government grant of £6,600 shared by all 17 mountain rescue teams in Wales.
Mark Bridger, 47, from Ceinws, near Machynlleth, was sentenced to life in prison in May after being found guilty of murdering and abducting April.