Service supporting flood victims in Wales planned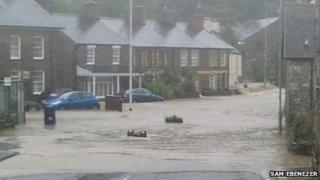 A service supporting flood victims is being planned by the Welsh government a year after a month's worth of rain in 24 hours brought chaos to Ceredigion.
A victim who was forced out of his home last year has welcomed the move, describing it as vital.
Aberystwyth and nearby Talybont, Dol-y-Bont and Llandre were among the areas affected by the rising water.
Many of those who had to leave their flood-hit houses stayed in temporary accommodation for months.
Parts of north Ceredigion had 5ft (1.5m) of standing water, with caravan parks, properties and businesses all suffering from the effects of the torrential rain on 8 and 9 June last year.
The bill for repairing damaged roads and bridges cost Ceredigion council more than £500,000. Some of the money was also spent on cleaning up after the floods.
But the Welsh government provided the authority with nearly £140,000 to help with the expense.
There was also flooding in St Asaph and Ruthin late last year, and the Welsh government said it had plans to provide a service that actively supported flood victims.
"We remain committed to managing the risk of flooding across Wales," said a spokesperson. "Whilst we can never fully prevent all flooding, we can manage the risks and reduce the consequences.
"That is why we are investing over £150m in flood and coastal erosion risk management over the life of this assembly, plus additional funding from the Wales infrastructure investment plan and European Regional Development Fund, to reduce the risk of flooding for over 7,000 properties.
'Vital service'
"We will consult on a national programme of flood risk investment this summer, which will help ensure we target our resources at those communities most at risk of flood and we are considering options for providing a service that actively supports victim of flood incidents."
But there are few details so far about what shape the service would take and who would run it.
Mick Fothergill, who had to leave his Talybont home after it was damaged by the floods last June, welcomed the plans to help victims.
"A service helping flood victims is vital and I've been looking at plans to set up a Welsh flooding forum," said Mr Fothergill, who moved with his wife back into their home in April.
"The first few weeks after a flooding it's crucial people receive the right information. I think government organisations can do more a lot more, even if they only mediated between victims and organisations such as insurance companies.
"A one-stop forum that people could call when these incidents occur would be really helpful."
Mr Fothergill said it was hard to believe a year on that so much rain had fallen on his village, given the sunny weather in Ceredigion over the last few days.
Since their lives were turned upside down, villagers have set up a flood committee and will lobby for money to make walls and bridges more resistant to the effects of heavy rainfall.
Residents from the 27 homes flooded in Talybont will hold a barbecue on Friday night to thank those who helped them following the deluge.
A Ceredigion council appeal to help those affected by the flooding has raised about £130,000.
Prince Charles made a donation to the fund and he and his wife, the Duchess of Cornwall, met some of the flood victims and the emergency services in Aberystwyth on 9 July last year.