Welshpool's Pola cinema to shut after 75 years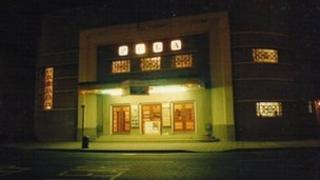 A cinema which opened in Powys 75 years ago is set to close with its manager blaming larger multi-screen rivals and new digital technology for its demise.
Welshpool's independent Pola cinema will shut its doors for the last time next week.
Manager Richard Thacker said switching from 35mm film to digital technology would cost £130,000.
A sister cinema in nearby Newtown, which he also manages, is staying open and is set to go digital.
Mr Thacker's parents met at the Pola where they worked together and his father went on to manage the cinema until his death in 2004.
With its 1930s art deco styling, the building is one of Welshpool's main landmarks and over the years has also hosted annual pantomimes and wrestling nights.
Mr Thacker said the Pola's closure on 13 June would be a sad moment for his family and for the town but keeping the cinema open made no financial sense.
"Cinemas throughout the UK have been switching from 35mm film to digital technology and in a couple of months film will not be available," he said.
"The cost of turning both Welshpool and Newtown into digital cinemas is £130,000 per cinema.
"I tried seeking out grants and other funding to help pay for this but because I run a commercial business the money wasn't available.
"The final nail in the coffin came when we heard that Oswestry (17 miles/27km away in Shropshire) was set to have a multi-screen cinema."
Mr Thacker said Newtown had a larger catchment area than Welshpool and was further away from the multi-screen cinemas over the border in Shropshire.
The Pola closed for three years in 1989 for a major revamp and in 1994 a second screen was added.