April Jones murder: Jail too good for Mark Bridger, say grandparents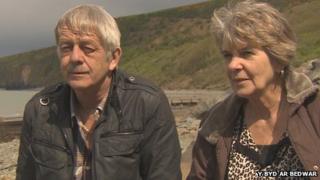 The grandparents of April Jones say jail is "too good" for Mark Bridger, who will spend the rest of his life in prison for her murder.
Bridger became the 37th person to be sentenced to a whole life term after he was convicted last week of killing the five-year-old from Machynlleth, Powys.
But April's grandfather Dai Smith said the death penalty should be brought back for offenders like Bridger, 47.
Mr Smith and his wife Linda spoke of their loss in an interview on S4C.
Bridger, from Ceinws, near Machynlleth, was convicted of April's abduction and murder at the end of a four-week trial at Mold Crown Court last week.
He abducted April as she played with friends on 1 October 2012 in a sexually motivated attack after he had been looking at child sex images on his computer.
'Pathological liar'
Her body has never been found, despite the biggest missing person search in UK police history which lasted seven months.
The judge branded him a "pathological liar" and "a paedophile" and sentenced him to a whole life term, a rare sentence given to only the worst offenders.
But Mr Smith, of New Quay, Ceredigion, the stepfather of April's father Paul Jones, told Sunday night's Y Byd ar Bedwar programme: "Jail is too good for them.
"I think they should bring back hanging or the injection or something like that. But I think they should suffer first… like she had to suffer."
His wife Linda agreed that no punishment would ever make right the loss of their granddaughter, and that the family will never get over what happened.
She told the programme: "There's no justice they can give him that will ever bring April back, there's nothing they can do that will ever compensate for taking her life away.
'Like a dream'
"I don't think we'll ever really come to terms with it. It's like a dream, really - it's not real… but it is real, obviously."
Mr Smith was with April's mother Coral when she made a TV appeal for information about her missing daughter.
He and his wife tell the programme about the night April went missing and also how they are coping with life without April.
"It's hard. You go out and people ask you questions and it's difficult to know what to say.
"We miss her every day. Think about her every day. Talk about her every day. She'll always be in our lives… in our minds," says Mr Smith.
"I think when a child dies in an accident it's a terrible thing, but I think this is worse - the fact that we don't have her body. I don't think anyone will ever know for sure what happened to her - only him."
Byw heb April: Y Byd ar Bedwar (Living Without April) was broadcast on Sunday 2 June at 20:00 BST. It was also broadcast on the online service Clic - s4c.co.uk/clic - and available to watch on demand for 35 days. English subtitles are available for both TV and online broadcasts.