National Library of Wales fire 'started by blowtorch'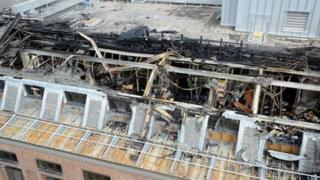 A fire that gutted a section of roof at the National Library of Wales was started accidentally by workers using a blowtorch, an investigation has found.
Mid and West Wales Fire and Rescue Service said the propane-powered device set fire to wood behind some external cladding on 26 April.
Two workers had been carrying out repairs to a flat roof at the library in Aberystwyth when the blaze started.
The fire affected an area used as office space and for new acquisitions.
Pieces of the library's historic collection damaged by water after the blaze were moved to Oxford by a team of salvage experts.
Early reports from the scene said a section of roof was destroyed on what is known as Building Two, but the library has confirmed that in fact it is known as the Third Library Building Offices.
The investigation found the fire started on a flat roof there.
"Prior to the start of the fire two workers had been stripping the roof covering from the flat roof of the third library building offices using a scalping machine," said the fire service.
"This machine was not able to remove all of the roof covering from around the edges of the roof and as such the workers used a propane-powered blow torch to warm the roof covering which was then scraped off using hand tools.
"Shortly after 14:30 one worker was using the blowtorch to warm the roof covering on the edge of the third library building offices roof. The blowtorch caused the ignition of the wood behind the external cladding."
The fire service said the workers tried and failed to extinguish the blaze and it spread behind the external cladding "extremely quickly due to the dry nature of the material".
"One of the workers activated the fire alarm for the library and notified Mid & West Wales Fire and Rescue Service at 14.38," added the fire service.
Flames
"Library staff attempted to extinguish the fire using a number of fire extinguishers, however these had no impact on the development of the fire due to the external cladding protecting the seat of the fire."
A total of eight fire engines, a platform ladder, an incident command unit and a high volume pumping engine were used to fight the blaze, some travelling from as far as Carmarthen.
"The most probable cause has been recorded as the accidental ignition of timber, located behind the external cladding on the edge of the roof. Ignition was caused by the propane-powered blowtorch," said the fire service.
Water used to fight the flames leaked through five or six floors, damaging some historic items.
The library reopened to the public three days after the roof fire broke out.