Aberystwyth woman defiant over compulsory home purchase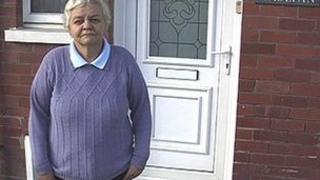 A woman facing a compulsory purchase order says she is resigned to losing her house to a shopping scheme, but remains defiant.
Tesco and Marks and Spencer have signed a deal with developers and Ceredigion council to build in Aberystwyth.
The plans involve demolishing 12 homes in Glyndwr Road, but Enid Jones is the only resident refusing to sell.
Ceredigion council has said it will consider the possibility of using a compulsory purchase order (CPO).
The shopping development is planned for the council-owned Mill Street car park adjacent to Glyndwr Road.
About 280 jobs would be created with both Tesco and M&S hoping to open their stores by December 2016.
The council claims the development will boost town centre trade by between £1.6m and £3.5m a year.
The authority's cabinet authorised the use of CPOs in Glyndwr Road last year but the final decision will be made by the full council.
However, Mrs Jones, a diabetic, said she was determined to fight on.
"It's a matter of principle. I just don't want to leave my house," she said.
"I'm resigned to the fact that the council will use a compulsory purchase order but I will fight them all the way."
'Convenient spot'
Along with her parents and siblings, Mrs Jones lived in Glyndwr Road for a period as child and when she bought another house in the street nine years ago she thought she would be there for life.
She said she had always known Mill Street car park was in a development area but there was never any indication that homes in Glyndwr Road would be demolished as part of a scheme on the car park.
"The house is in a convenient spot and I've settled down here and made it my home," Mrs Jones added.
She said last year that the developers had offered to buy her a house or build her a new one if she sold her existing property to them.
In a programme broadcast in November 2011, BBC Wales' Week In Week Out followed Mrs Jones in her attempt to get more details about the plans for her home.
Tesco is planning a 25,000 sq ft (2,300 sq m) supermarket on the Mill Street car park site, while M&S wants to build a three-storey, 36,000 sq ft (3,300 sq m) store.
The project will also include seven new homes and 550 car parking spaces, more than double the current number of spaces. The council said 500 would be free of charge for up to three hours.