April Jones case: Mother's last moments with missing girl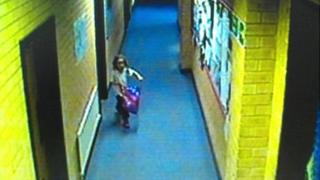 The jury in the trial of a man accused of murdering five-year-old April Jones has heard of her parents' last moments with her before she disappeared.
A statement from April's mother Coral read out in Mold Crown Court said April had wanted to go out to play but her parents had initially refused.
They gave in after she had a "little bit of a tantrum", said her mother.
Mark Bridger, 47, from Ceinws, Powys, denies abducting and murdering April who disappeared on 1 October 2012.
April went missing while playing with friends near her home on the Bryn-Y-Gog estate in Machynlleth.
"At about 7.20 I wanted April to come back home," said Mrs Jones.
"She had been out for about 20 minutes at that time and it was getting dark and a little colder."
She sent April's brother to look for her and within a short time he "came running home and he was in a hysterical state".
Her son told her a friend had seen April getting into a car with a man and "had gone". Mrs Jones immediately called the police.
"I searched around the estate everywhere I could think of. I even looked in the bins," she said.
Mrs Jones, who made her statement on 8 October, said April was "aware of strangers" and knew not to go off with anybody she did not know.
"I can't understand why she would go into someone's car that she doesn't know," she added.
"I would describe her as a happy-go-lucky little girl, she does play up sometimes like any child of her age."
The court heard how Mr Bridger and Mrs Jones crossed paths 17 years ago when she played darts at a pub in Machynlleth.
They were not friends but she would acknowledge him if they passed, jurors heard.
She remembers Mr Bridger helping her start her car several years ago and he also used to be a friend of her husband Paul's.
The jury heard how Mr Bridger requested to be friends with one of April's half-sisters on Facebook but Mrs Jones had advised her to refuse.
In her statement, she said Mr Bridger's son had been playing in their house when news of his arrest broke.
Mrs Jones's statement earlier outlined how April had a mild form of cerebral palsy and took ibuprofen and paracetamol to manage her pain. April had also been recently been measured for a "wetsuit" type suit to help correct her posture.
Mrs Jones said she had been concerned about April on the day before she went missing because the little girl had complained of an upset stomach.
But Mrs Jones said the next day "she was fine and we had a cwtch [Welsh for cuddle]... and then Paul and I got her dressed between us".
The jury also heard written evidence from April's father who said he felt "so helpless" on the night his daughter went missing.
Mr Jones described how he searched for April the night she disappeared before eventually going home. "I think I just paced up and down waiting for news for about 24 hours," he said.
Mr Jones had known Mr Bridger since 1992-3 because they had been dating sisters. Mr Bridger "seemed a pleasant bloke", he said.
'Risk taker'
However, he recalled him driving his car "like a maniac" and he was "a risk taker".
"I also remember that I lent him a book on SAS survival... it had things like how to survive in the outdoors for long periods of time," he said.
He said Mr Bridger did not return the book and claimed he no longer had it but Mr Jones went to his house one day, saw it and took it back. During Mr Jones's written statement, Mr Bridger bowed his head and appeared tearful.
The jury also heard evidence from April's 16-year-old half-sister. She described persistent attempts by Mr Bridger to be a friend on Facebook with her.
Mr Bridger told her on the site that he knew her father but she refused to be friends with him.
Earlier, CCTV footage showing the last images of April Jones before she went missing and Mr Bridger's movements taken from a 20-mile radius of Machynlleth were shown to the jury.
The footage, viewed by a team of 23 police officers, showed Mr Bridger at various locations around the town on the day April disappeared. It then showed the last images of the little girl as she left the town's leisure centre after a swimming lesson.
CCTV on 1 October 2012
10:59 CCTV shows Mr Bridger inside council offices
11:13 He leaves council offices and gets into Land Rover
11:16 Passes Barclays Bank camera in town centre
12:07 CCTV on bus passing his home in Ceinws shows his vehicle parked there. Court hears one of these images shows him stood by the vehicle
13:17 Tuffins Garage shows his vehicle being driven from Dyfi bridge towards Machynlleth town centre
13:21 Passes Barclays Bank, heading into town
13:26 Barclays camera shows him leaving Pennypinchers
13:44 Another bus CCTV camera captures his vehicle at his home in Ceinws. He is apparently stood by the vehicle
16:37 to 16:39 CCTV camera in leisure centre shows April and a friend in the foyer, going into the cafe
16:48 Mr Bridger's vehicle seen passing Tuffins Garage, heading into Machynlleth
16:50 April and one of her half-sisters seen walking along corridor into leisure centre changing rooms
17:39 They leave the changing rooms and walk back towards leisure centre foyer
17:40 April, her half-sister, mother and a friend seen leaving cafe and leaving leisure centre
Approx 19:12 Camera sees what is believed to be Mr Bridger's vehicle at the war memorial
19:20 CCTV footage of a man known as Mr Standing putting fuel into his car at Tuffins Garage (jury heard earlier in the week that Mr Standing saw the defendant drive past). This was the last sighting of Mr Bridger's car, the court heard
CCTV on 2 October 2012
09:48 Next sighting of the defendant was on CCTV at Tuffins Garage. Shows him walking from the Dyfi bridge towards Machynlleth. Another camera shortly after sees him crossing a road.
10:42 Police helicopter footage shows him walking a dog. Jury previously told he was not a suspect at this point. Footage also focuses on his house. He does not appear to look up and appears to be carrying a stick.
Det Con David Purdue, who gave evidence about the CCTV images, was the first witness to be called in the trial.
The trial continued earlier on Friday with the judge answering questions from the jury about the previous day's visit to Machynlleth.
The jury had travelled there from Mold Crown Court to see key locations, including Mr Bridger's home.
Prosecutors have told the court the defendant killed April and that traces of her blood were found at his home.
Jurors also visited April's school, Machynlleth Junior School, on the edge of the Bryn-Y-Gog estate, where she disappeared from while playing with friends.
On Wednesday the court had heard that April's parents as well as the defendant had attended a parents' evening at the school on the evening she disappeared.
The defendant's home is a key part of the evidence presented by prosecuting counsel Elwen Evans QC.
Ms Evans told the court the defendant burned evidence in his fire and used detergent as part of an "extensive clean-up".
But blood stains found within the cottage matched the DNA of the five-year-old, she said.
The defendant had told police during interviews he had accidentally hit April with his car and "panicked", the jury was told.
The defendant also denies intending to pervert the course of justice.
The case was adjourned until Tuesday.